Carlton County is a small lake - Lake Kytola - all that is left to say that a Finn, Kytölä, once lived on its shores.
This isolation meant great distances to be covered to purchase supplies, particularly if, like Perkkiö, one went all the way to Duluth to buy them. A small man - five foot six - with a long beard and flowing hair, a shotgun over his shoulder, a long Finnish knife stuck in his belt, a knapsack on his back - he must have presented a startling picture even in the wilderness scene in the 1890s. Once, coming into Duluth the police stopped him to see what he had in his knapsack, and they found he was toting over 100 pounds of game. If such a small man could do it, it should not be wondered that another Floodwood pioneer,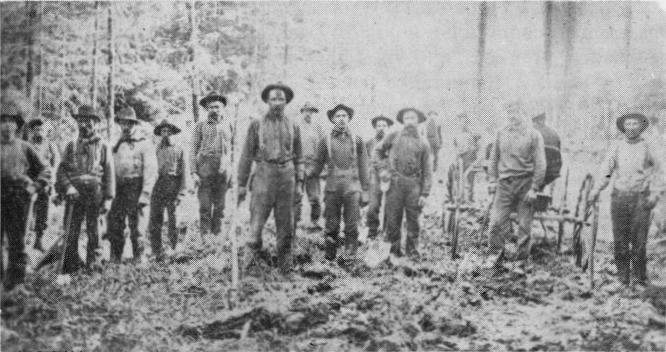 Finnish pioneers building roads in 1910 near Floodwood. Axel Waara, Erick
Perkkio, Jacob Niemi, John Raihala, Matt Simi, Sr., Erick Newman, Constant
Luoma, Andrew Hautala, John Simi, Keo Johnson, August Perkkio, Andrew
Juola, William (Koski) Johnson, John Alapere, Andrew Simi, Mike (Takku
nen) Anderson. The road which these men carved out of the wilderness by
hand is the present black-topped road No. 73.
Iso-Järvinen ('Big' Järvinen) slung a 100 pound sack of coffee over his shoulder when he came to buy supplies, "so that he wouldn't have to stop to recall every time he was in town if there was enough coffee at home," and then bought ten 5-pound packs of rusks to take with the coffee, and a `small bag' of flour.
As soon as there were a few Finns in Floodwood, plans were made for a temperance society, with assistance given by Aatu Rekonen from Palo, who came on a visit for this purpose. It was in 1899 that the Onnen Ääni (Voice of Happiness) got its start and joined the Brotherhood. The number of members never grew very large, but enthusiasm was always apparent, and even
584