Mustonen, Hilja Nygard, Ellen Rahja, Jenny Räihälä, Emelia Risku, Anna Siikanen, Hanna and Mamie Wain, Liisa Wilminko and Saima Ylitalo.
Over the course of the years, there have been several Finnish businessmen and undertakings on the local scene. Indeed, Ilmonen's statement that all Floodwood shops and stores were in one way or another both started up and kept up by Finns cannot be seriously disputed. In the cooperative field, there were the Floodwood Cooperative Association (started in 1925, joining the Cooperative Central the following year,) the Floodwood Cooperative Creamery Association and the Trico Cooperative Oil Association, as well as the Gowan Cooperative Association, which had seen its start in
1918. The Floodwood First State Bank is in the hands of Finns, who are also important factors in the administration of other related enterprises and involved in all community administration offices. In 1938, M. W. Räihälä was president of the selectmen, Sam Koskela a selectman, Andrew Hokkanen
the assessor, a post he served for two decades. There has almost always been one Finn or another in one township office or another: Charles Nissi as Floodwood supervisor in 1920; Waldemar Aho as chairman of selectmen and John Hannula as treasurer in Halden; Anton Heikkilä as treasurer of Prairie Lake; Fred Wain as chairman of the board of selectmen, Matt Luoma and John Simi as supervisors, J. Kivistö as assessor and John Mustonen as treasurer in Van Buren; W. Kytölä, a Finn and first woman in Minnesota to be member of a Soil Conservation Committee, in Fine Lakes, and later township treasurer for approximately ten years.
For a time there was published in Floodwood a paper, the Amerikan Farmari, which later moved to Duluth. Räihälä, cited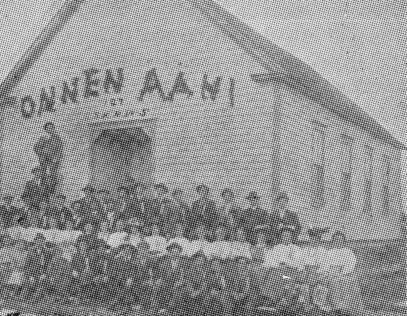 "Onnen Aani" temperance group in Floodwood.
586