themselves. One after the other Finns did go there and see this truly fertile valley which apparently nobody before them had found. The Finns began to settle there, and their settlement was named after one of them, Heikki Toivola. All of its inhabitants, with the subsequent exception of two Swedish sawmill owners, were Finns. The Township of Toivola was organized and incorporated in 1911. Its first officers were Jacob Vuori (Rajavuori), Jacob Kero and Matt Steinbach, supervisors; Jacob Jussila, secretary, and Frans Lahti, treasurer.
In summer, the river formed the only `road,' and in winter, also, the only easy way to travel was by horse over the river's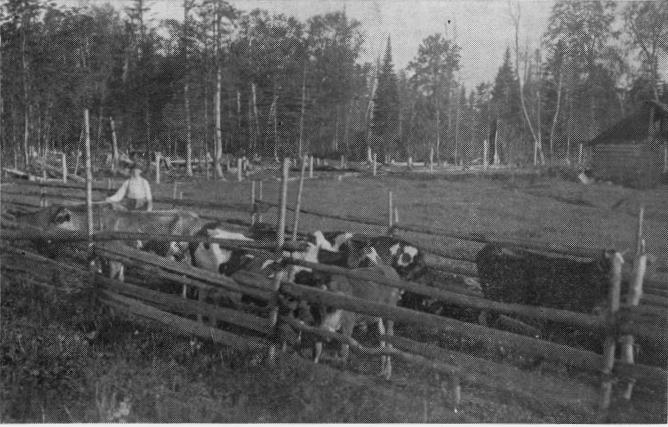 Frank Lahde's new home in Toivola.
ice. The transportation situation began to improve in 1905, when a railroad came through, while the first country road, between Toivola and Floodwood, came somewhat later. Another road, the Arkola road, soon led from the railroad station to the river, but it was not until 1915 that work was begun to bridge the stream. By this time a road had been built to Elmer, and a little later came a road to Hibbing. Even in 1917, however, when the first automobiles drove from Hibbing to Toivola, they had to be pushed and lifted by manpower over the worst places on the road.
Mail was originally brought in by boat and left at Markkanen's store. When the railroad came a post office was opened in Elmer, and John Saralampi used to ride the train to Elmer to pick up the mail, which he would then distribute at his store. Later still,
589