The first Finnish organization in Toivola was the church in 1905 there was already in existence a small congregation, which joined the Suomi Synod at that time. Membership then was close to 100, but in the mid-1950s it was only about 20. A small church had been built in 1909, to be replaced by a larger' and more modern building in 1921. Pastors from Eveleth and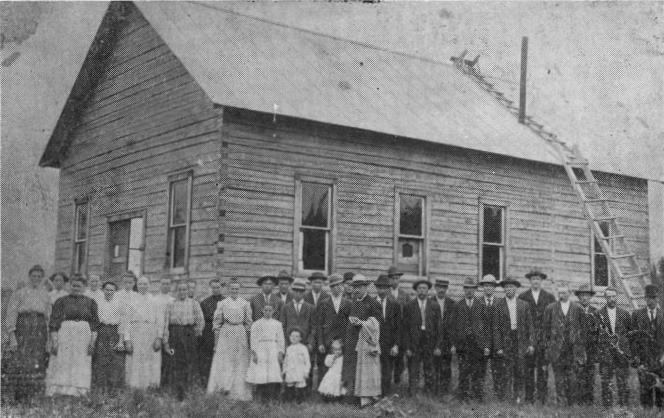 First Finnish church in Toivola.
Hibbing have taken care of the congregation. The first Sunday school sessions were held in 1909, with Victor Lahti, Gust Mäki, John Saralampi and Alex Sorvari as teachers.
A temperance society was started in 1908, a workers' society at about the same time. Both were small, limited in the possibilities of their activity, and lacking sufficient support, both disappeared from the scene.
On one occasion, however, Toivola activities were the object of nationwide interest. On the initiative of Arthur Lampe, the St. Louis County director of schools, and of his assistant, Matthew Lahti, a Shrovetide festival in Finnish style was sponsored in Toivola. The local committee making arrangements had Ero Rajavuori as chairman, Martha Lammi as secretary-treasurer, and Jack Rajavuori in charge of publicity. The festival itself, with sledding, tobogganning, games, evening programs, was an unique one and successful beyond expectation. Spectators, Finns and others, arrived from everywhere, from Duluth, from as far
591