Finns in Isabella asked for a road, but they did not get one. Some were prepared to quit the place in despair, but finally a few hundred dollars were forthcoming from Beaver Bay Township. It was enough to pay for filling in a few of the more impassable stretches, making it possible at least to travel by horse in winter, while in summer it still took Matti Ruuska and his span of oxen two days to get to Finland and back with needed supplies. The Finns then pitched in themselves to clear a few miles at a time for several summers, but it was not until 1920, when the then candidate for governor, J.A.O. Preus drove up in his car, as far as he could get, and promised a road if he were elected. He was, and State Highway No. 1, running through Isabella, was the result,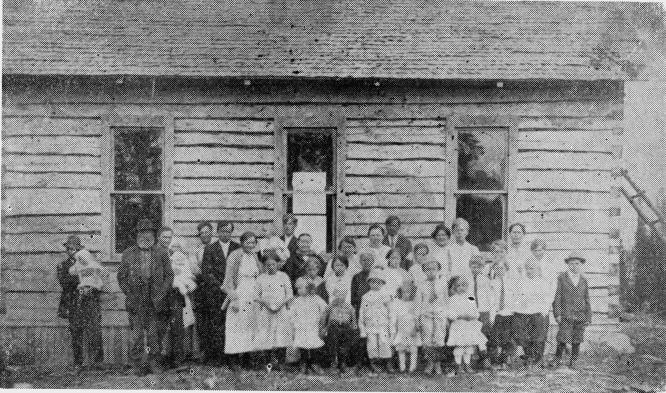 Parents and pupils in front of first school in Isabella.
The first school was almost as slow in coming. Classes were begun at Herman Davidson's farmhouse, with Emil Sjodin as teacher, until a schoolhouse was opened in 1913.
In its series of articles on the pioneering efforts of the Finns, the Industrialisti had written that "a place to meet and get together for recreation is an essential building in every community; if it does not exist, then even the most modest of communities is like a chicken without a head." Even in a settlement as small as Isabella the two dozen adults banded together as an organization - as a workers' society, which brought them together for the modest little events they planned, allowed them to participate in games and races for practical prizes like flashlights, candy, coffee cups, a pipe, a pocket knife. They collected
602