first was the congregation established by Trout Lake farmers in 1901 as the National church group. For a quarter of a century meetings were held at the home of photographer C. J. Frant, but in 1926 the group got together with the local Suomi Synod congregation which had been established in 1911. Actual union came in 1940, and the church became the Trout Lake-Bovey Evangelical Lutheran Suomi Synod Congregation. On the Bovey side of the picture, religious life had begun in 1906, but was soon given up in favor of working with the more flourishing group in Trout Lake, where there was also an Apostolic Lutheran congregation with its own church. Divided as they were then, into Apostolic and Evangelical Lutherans, the Apostolics invited the others to share use of their church - and their cemetery. A new church for these two denominations was built in 1941.
There was, however, another side to life in this region. Bovey, for example, had 26 saloons and 28 `houses,' to which the lumberjacks and miners from the region used to flock. To combat this seamier side of life, the temperance society Lehti (Leaf) came into
being, some time before 1908, when it joined the Temperance Brotherhood. It was not a large society but was able to build its own hall (the 1910 annual convention of the Brotherhood was held here) and thus to attract more members. However, by that time there was
also a local workers' society, which took away a part of the Lehti's support, but not before the Lehti had exerted some influence in effecting measures to keep prostitution within bounds and to create an atmosphere conducive to family life.3
The Bovey workers' society was started in 1906, a hall was soon built, giving impetus to auxiliary activities; by 1910 there were 74 members, 16 of them active on the gymnastics team and 15 in dramatics. Calumet also started a workers' society of its
3. The Bovey Press. November 1949.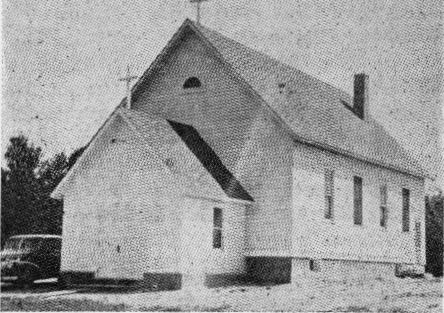 New church at Trout Lake.
619