and the story told by John Piippo, who came to Red Wing in 1866, was a harrowing one.
In the lumbercamp where he was working, Piippo met another Finn, one Matti, who became his friend. When Matti fell ill with the cholera, Piippo remained faithfully at his bedside. In great pain, his body bloated and death approaching, Matti tried to raise himself but fell into his friend's arms and died. An hour later Piippo felt that he was beginning to lose his vision, where
upon some fellow-Finn took him to Red Wing to get help. The German druggist there prepared such an effective medicine that within a short while Piippo got his sight back and suffered no other ill effects either. There is, however, another version of the same incident, according to which Piippo had sent his friend August Peter to fetch a quart of rum and some asafetida, and that Piippo drank all this mixture, which was so powerful that only complete cure or death could result.4
The outbreaks of cholera forced the Finns to leave Red Wing and seek a livelihood elsewhere. It is impossible to estimate how many of them succumbed to the cholera, for under such tombstones as Anderson, Mattson and Peterson can lie more Finns than are indicated by the 25 marked graves, interring a great number of expectations never fulfilled.5
The Southern Counties
The Minnesota River, running horizontally across the state, almost seems to cut Minnesota in two. The thirty-one
4. Interview with John Piippo in 1939, WPA Archives, St. Paul, Minnesota. 5. Duluth Herald, 21 December 1939,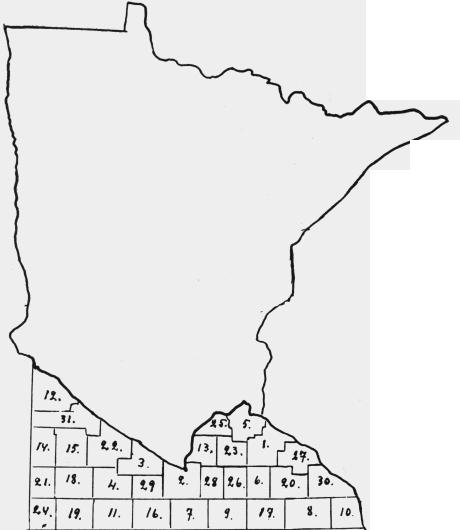 Southern Minnesota counties: 1. Goodhue; 2. Blue Earth; 3. Brown; 4. Cottonwood; 5. Dakota; 6. Dodge; 7. Faribault; 8. Fillmore; 9. Freeborn; 10. Houston; 11. Jackson; 12. Lac qui Parle; 13. Le Sueur; 14. Lincoln; 15. Lyon; 16. Martin; 17. Mower; 18. Murray; 19. Noble; 20. Olmsted; 21. Pipestone; 22. Redwood; 23. Rice; 24. Rock; 25. Scott; 26. Steele; 27. Wabasha; 28. Waseca; 29. Watonwan; 30. Winona; 31. Yellow Medicine.
86