neither of these men saw action, for peace came while they were still in basic training at Chattanooga, Tennessee.'
Meanwhile, in St. Peter, on 22 February 1865, Elizabeth Tiiperi (mentioned in the previous chapter as one of the early arrivals at Red Wing, where her husband and one son died of the
cholera, causing her to hasten to St. Peter with her two very young children) gave birth to a
son, the first child of Finnish parents born in Minnesota.
He was baptized John Abraham and he and his brother later used the surname Mattson. A few months following his birth, the family moved to Franklin (Renville County) for the Norwegian minister in St. Peter, the Reverend Peterson, urged the Finns to go to that neighboring county, where homestead lands were still to be had near Norwegian and Swedish settlers. These Scandinavians, plus German immigrants, had already picked out the best and most level prairie sections, but the minister knew that the
Finns in any case preferred wooded regions, which were still available. The Finns heeded the advice, visited the land office to pick out their grants, and then travelled on to Franklin.2
St. Peter itself at that time was a small town. Its population in 1870 was 2,124 but grew to double that by 1900. In the county as a whole there were but nine Finns in 1900, and fifteen in 1910, while in 1950 only eleven were left, all of them in St.
1. Curtiss-Wedge, F. History of Renville County. Chicago, Ill. 1916. pp. 335-336, 2. Ilmonen, S. op. cit. II, p. 137"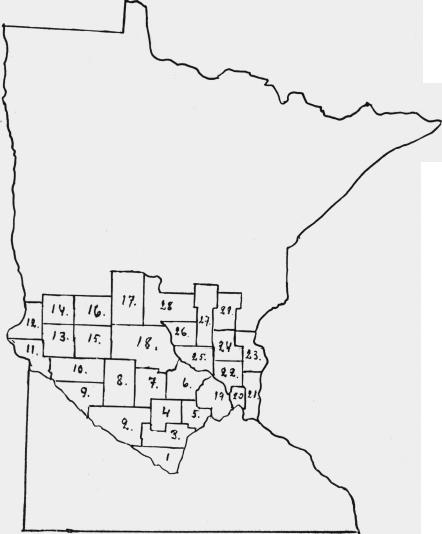 Central Minnesota counties: 1. Nicollet; 2. Renville; 3. Sibley; 4. Mc Leod; 5. Carver; 6. Wright; 7. Meeker; 8. Kandiyohi; 9. Chippewa; 10. Swift; 11. Big Stone; 12. Traverse; 13. Stevens; 14. Grant; 15. Pope; 16. Douglas; 17. Todd; 18. Stearns; 19. Hennepin; 20. Ramsey; 21. Washington; 22. Anoka; 23. Chisago; 24. Isanti; 25. Sherburne; 26. Renton; 27. Mille Lacs; 28. Morrison; 29. Kanabec.
92