clothes - but not his gun - and made signs to show that he could leave now. He was escorted from the Indian camp by a group led by the old chief, with Maunu behind him, followed by a group of Indian youths with guns and dogs. I happened to be on the path near his house when the party appeared, and Maunu hastened to shout to me to get out of the way, to avoid any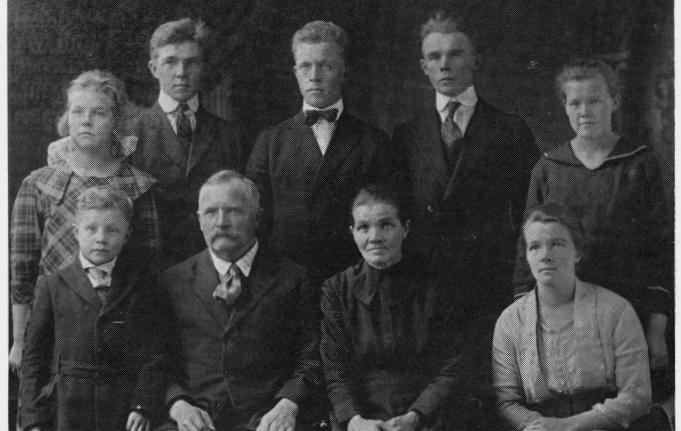 the Benjamin Pantsari family. In front: Kuopus Andrew, Benjamin Pantsari
and his wife Edla, Hilma (Siirila). Back row: Esther (Kilbo), Fred, Henry,
Albert and Aino (Simi).
incident. Well, it ended by their all trooping into my house, and Maunu fetched fresh-baked bread from home, and some butter, which the Indians proceeded to gobble down, busily gesturing to one another as they took huge gulps of bread and then swallowed mouthfuls of butter. And to the day of his death Maunu insisted that there was nothing to the talk that the Indians were eager for scalps."
The first Finnish children born in Paddock were twin boys, August and John Kuha, born on 3 February 1883.
Paddock had a general store and a post office, and a half mile to the east of them Andrew and Isak Koski built a flour mill along the rapids of the Red Eye in 1887, but a fire destroyed the mill two years later. There were also sawmills in the area, and it was thanks to them that the forest disappeared rapidly from the pioneers' lands. Before their disappearance, however, the forests helped contribute to a certain notoriety achieved by the Paddock
174