After them, within a short space of time, came W. Grangruth, Antti Kuukas, Paavo Kuukas, J. Kynsijärvi, L. Lohi, P. Maaninga, M. Marjamaa, J. Maunu, A. Mursu, T. Ollila, M. Pietilä, K. Sarvi and J. Särkiaho. All of them had started out from New York Mills, 30 miles distant. If one left that town on foot to go through the roadless forest, "with a cookstove on his back, a sack of flour under his arm, a two-month old child in his other," as Henry Mattila had done in 1885, one knew that one had left behind him the last outpost of civilization. Even the mails did not go beyond New York Mills, and so the Menahga Finns were literally on the frontier of civilization. In this primeval forest there prevailed a merciless law : kill or be killed, and to secure peace for their families and security for their livestock the Finns had to kill huge wolf packs, the scourge of the region.
The first home built in Menahga was apparently that of Riiko Karjalainen. The incorporation of Menahga came in 1890, and it was served by a railroad the following year.
The Finnish temperance society Tammi was established here in 1893, with the names of Anton Järvinen, Leander Marjamaa and Matti Rousti mentioned as its founders. The society's first functions were held in rented quarters, but a clubhouse was soon built, a building which was destroyed by fire in 1938. At its most flourishing period the society had between 50 and 60 members, and activity was directed chiefly toward the menfolk, since but very few women, looked upon askance, ever frequented the saloons.
Organized religion actually preceded the temperance society, with the Apostolic Lutheran group appearing first on the scene. Their parish was established in 1891, and began to build a chapel in 1894, but the building was destroyed by fire even before its completion. Later services were held at the temperance hall; later still, the parish was served by the nearest church, the Runeberg church in Becker County. As one of its regular pastors, the name of W. Alajoki appears in records.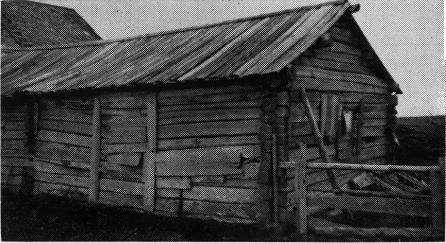 John Erick Luukkonen's first home in the Menahga
area. Built in 1885. Photographed in 1954.
188