meetings and festivals, took part in the organized state and national program, and then gradually withered away as its number of supporters was reduced. At its maximum, it had 273 members to its credit; at the end of World War II its membership was made up of 12 women and 4 men.
The Northern Flame, a day after it was founded, began to discuss the building of a hall to house its activities, and the following spring (1887) the decision was reached : it was to be a building 44 feet long and 28 feet wide, erected on a plot donated by the Minnesota Iron Company, whose superintendent, John
Pengilly, was favorably disposed toward the Finns. A construction loan was taken, at an interest rate of 10%, but most of the money was raised in pledges and donations - $5 was the largest gift received, 2c was said to be the smallest. The building, ready for use in March 1887, was probably the first of its kind in Minnesota, served its purpose for decades, being enlarged and improved as the situation demanded, until this building which had cost the Finns $1200 to build was valued at many thousands.
In Soudan, as in so many other different communities, a socialist group was founded here in 1906. Three years later this group had its own home and somewhere between 25 members, which was the figure at its birth, and. 58, which was the
membership figure 6 years later. It was active with its own dramatics group and choruses, but when the schism came into the labor party ranks, the activity here came to an end.
If the socialists were in a sense in opposition with the Soudan temperance followers, religious activity in the beginning cooperated wholeheartedly with the temperance society. Indeed, the early religious services were held at the temperance hall, under its first, itinerant pastors, Heikki Sarvela, W. Williamson and A. Sandström. The congregation was incorporated in 1890, and a church was built in 1897, big enough to seat 150 worshippers. Affiliated originally with the Suomi Synod (Evangelical), it became inde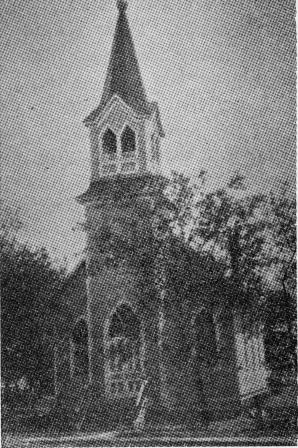 Finnish Ev. Luth. Church in
Soudan.
367