were on hand to form the minimum membership, but there was a delay of some weeks until a few of the prospective members became of age. However, on the first of January, 1902, when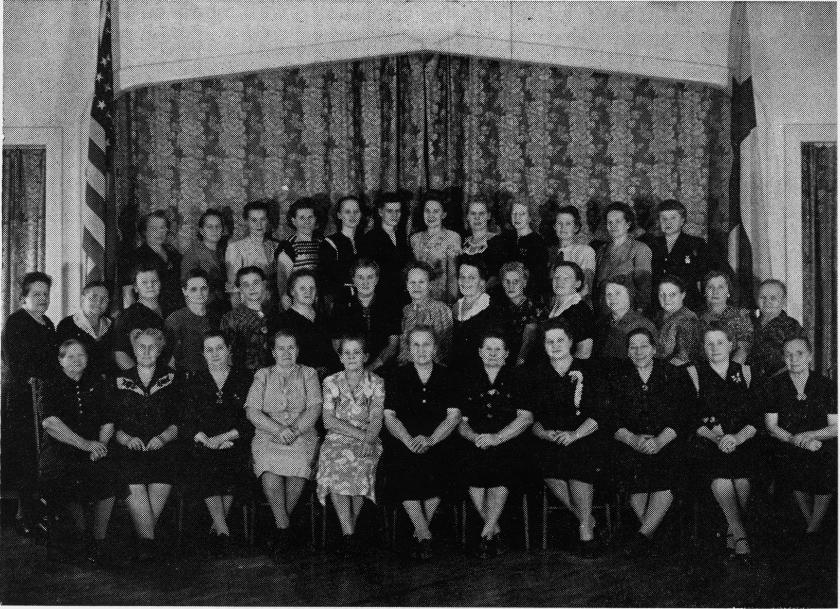 Ladies of Kaleva "Vellamo Tupa" members: Seated: Hilma Ullakko, Henriika
Mäki, Anna Leino, Lydia Kakkuri, Aino Johnson, Tilda Kauppi, Mary Mäenpää,
Senja Mäki, Fiia Jokela, Hilma Mills, Helmi Helpakka. Center: Helmi Tabell,
Liina Lundein, Viena Tanttari, Martta Siren, Naimi Metsäpelto, Sanna Ranta,
Helmi Lintula, Greeta Sihto, Helmi Mäkelä, Ida Erickson, Maria Marttila,
Anna Puskala, Aino Porthan, Jennie Thompson, Hilda Virta. Back row: Anna
Pöksylä, Annie Wilmonen, Martta Järvi, Jennie Manni, Vivien Mäenpää (Tuo
mikoski), Jennie Luhtanen, Ruth Nikkinen, Viena Mäkelä, Violet Lassi, Sanni
Mäkipiha, Maria Kivipelto, Lily Forselius.
everything was ready, Konstant Kykyri and Hans Laine of the Sparta Chapter arrived to conduct the ritual of installation of the members of this new chapter: Fabian Mäenpää, Isack Ekorn, Alex Haapajoki, Toivo Hattu, Alex Jaaksi, Mauritz Kangasniemi, Matt Koskela, Matti Lehtola, A. Luhtanen, Adolf Ollila, Mikko
386