lies in the Finn. No matter where they have lived the men of Finland have gone forth arm in arm to face the world," wrote the Suomen Urheilulehti in March 1923. Finland has contributed many a fine athlete to America, and the achievements of the Finns in international competition have served as example and inspiration.
Long distance foot races demanding considerable endurance have been particularly favored in Finland. Having won three gold medals in the Stockholm Olympics in 1912, and having given successful exhibitions in many European countries, Hannes Kolehmainen (with his brother William) arrived in the United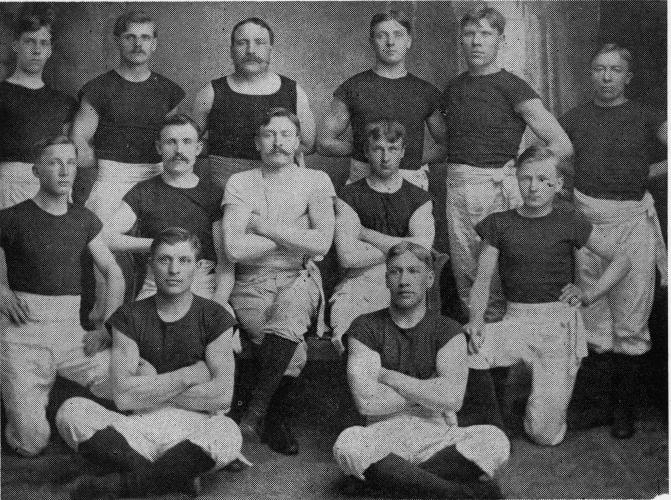 Vesi Temperance Society gymnastic group. In front: Oskar Walli, Andrew
Watilo. Center: John Mäki (Hulme), Otto Mäki, Erick Anttila, director,
Thomas Harri, Emil Isotalo. Back row: Wigander, unknown, J. Kantola, Gust
Mäki, G. Sirvio, Pekka Soponen.
States, and for three years he took part in competition in this country, creating considerable enthusiasm for sports everywhere among Finnish-Americans. Although offers were made to Kolehmainen to turn professional, and $5000 per year, considerable money at the time, was offered him, he decided to remain an amateur and to take part in the next Olympic Games. His biggest success in the United States was probably the 12-mile
392