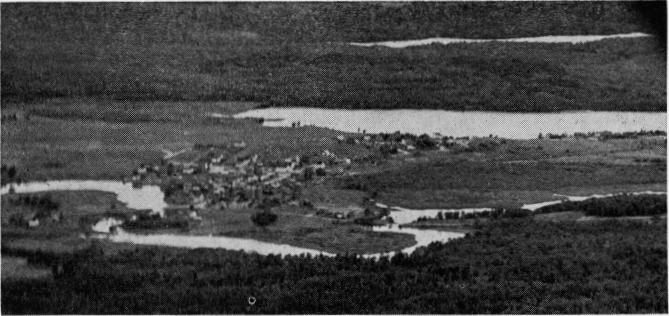 Air view of Winton.
forced its termination. Although it is no longer even clear what the name of the temperance society was - was it Vellamo or Aallotar? - Ilmonen does mention that it joined the temperance league in 1908, but since even he makes no further mention of the society, this membership must have been short-lived.
However, social activity at the hall itself continued to grow and expand, and as the activity assumed more facets, only the brisk dramatics work suffered because of the cramped stage facilities. Support for the workers' movement grew (in 1911 the Työmies was delivered to 30 subscribers in Winton) and led to the organization of the Workers' Society in 1913. This group purchased land from the village authorities for a fairly large hall, finished on the eve of the war. John Joutsen worked there as director of the drama group, and later, during Jack Stark's incumbency, the group performed in many nearby communities and was always well received.
Mention should also be made of the lending library included in this hall endeavor. Before its end it had over 400 volumes, purchased with the proceeds from evening socials; it was available to all, with members of the Workers' Society taking turns serving as librarians. In 1913 an athletic group was also set up, directed in its earlier phases by John Niemi and John Helenius.
Winton did not have Finnish churches, however, and according to C. Kuitinen, it did not even have organized church bodies but went on with pastors of various faiths visiting Winton from time to time to hold services for those who were interested, at the hall or, in winter when the hall was too difficult to heat, in
404