Biwabik Township
East of Missabe Mountain Township lies the Township of Biwabik, extending across the entire width of the Messabe orebearing ridge. White settlement began here as soon as the ore was discovered, and the name Biwabik is simply the Indian word for iron. The township was organized in 1892, and the petition included the signature of one Finn, Mike Tanner. However, within the area covered by this township there had already appeared three established population centers: the villages of Merritt, McKinley and Biwabik.
The first to be organized was Merritt, in March 1892, at which time the population was already 217, of whom a few were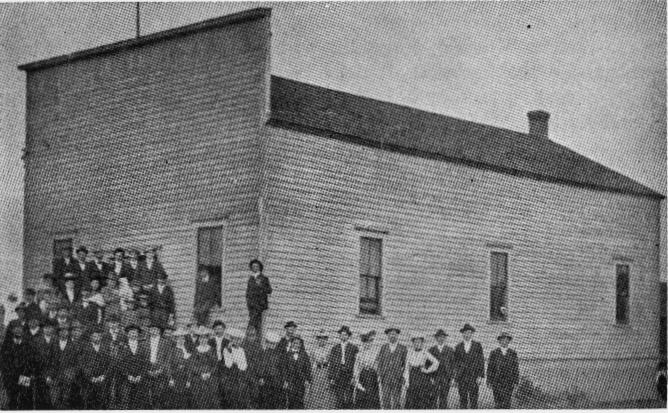 The Ilmiö Society hall in Biwabik.
Finns. A month prior to the organization, lumbering operations had been started, and the future looked promising. However, Merritt was doomed to die within the year, when McKinley and Biwabik appeared as close neighbors and proved to be more flourishing centers. The final blow was a disastrous forest fire in June 1893, which destroyed all vestiges of man's work in the area. After that, no significant numbers have resided here on any permanent basis.
Mining operations were a significant factor in the birth of McKinley, which was organized in August 1892, with a population
480