decade later the figure stood at 1,036. The township itself was organized late, in 1906. Within its area there are the following mines
Mine: Opened:

Production by 19L66 (in tons):

Fowler

1907

926,196

(exhausted)

Meadow

1910

448,448

(exhausted)

Miller-Mohawk

1905

8,802,149

(operations

ended)

Perkins

1909

612,293

(exhausted)

Perkins Annex

1955

113,805

(operations

ended)

St. James

1916

4,057,605

Stephens

1903

454,819

(operations ended)

Stephens Reserve

1955

5,801
Ilmonen has stated that the first Finns came here in 1905, but the documents submitted in support for the organization of the township show that Finns must have been on the scene at least two years earlier: in September 1903 there were 174 persons living in the so-called Meadow location, and they gathered at the store run by two Finns, Knuti and Onzala, to hold meeting after the county had authorized them to proceed with organizing a local government. In the elections in December of that year, Finns were elected to local positions: John Hill, trustee; H. Kitto, recorder; Charles R. Hill, treasurer; Charles Gustafson, constable. Many other Finns have subsequently served in local office. Among them was Hugo H. Knuti, who was for a long time village select
man and simultaneously president of the local bank. The Town of White, of which Aurora is a part, is the second richest town in the iron-ore area of Minnesota. Supervisors of the Town of White have included the following Finns: August Knuti, 1920-24;
Matt Rahko, 1924-26; Erkki Kuola, John Paavola, John Halonen and August Wainio. In his time, Rahko also had a hardware store in Aurora and besides that served as an undertaker.
As with so many other communities within this mining region, Aurora also had to move from its original location: it was shifted about a mile farther south, and then was on a railroad line. The population began to grow rapidly, from 1,919 in 1910 to 2,800 in 1920. Many of them were Finns (and included numbers of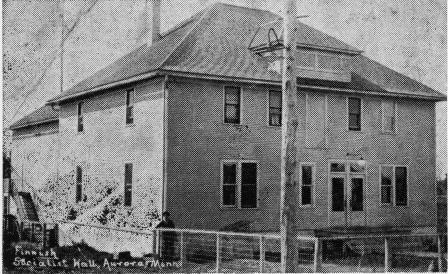 Aurora Workers' Society Hall.
483