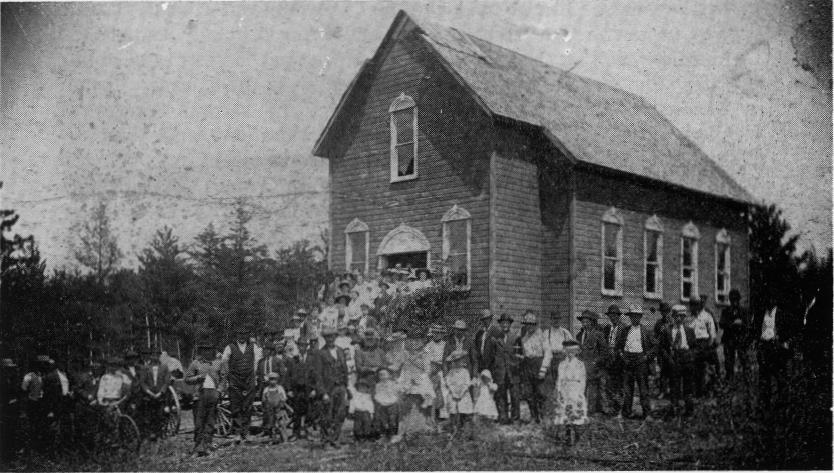 Finnish Ev. Luth. Church dedicated in Pike in 1910. The building has been
remodeled twice since that time.
lies buried there herself, has described the early years of this cemetery: "The first to be buried there was Väinö Petäjä's infant, and the first adult was Heta Ojanperä in February 1910. The funerals were very simple affairs. The caskets were made at home, sometimes with the help of Kusti Saarinen. When it was an infant's burial, the casket was carried under one's arm to the cemetery. A burial plot cost $3, later $4. The grave digger was paid $5 for his work, but later that was doubled, but if someone wanted to dig a grave himself he could do it. The first cemetery officials were Henry Karjala, who was maintenance man and gravedigger, and John Petäjä, who was president." Describing the other local cemetery, Alma Laulunen wrote: "The East Side Cemetery later became the larger one, and it is here that the majority of Pike's pioneers rest on a lovely knoll. The first person to be buried there was Senia Hirsimäki. At this cemetery the gravedigger was paid $12 in summer and $16 in winter. Later the winter fee rose still more, since one man alone could not budge the frozen earth. Both cemeteries have long since been transferred to township administration."
Immediately adjoining the Finnish cemetery, and at a corner of Henry Allen's land, stands the Pike Evangelical Lutheran church, built in 1906. Earlier, services had been held at mem
549