come at about that time. Linden Grove Township was organized relatively early, in 1907, so population must have started arriving immediately after the turn of the century. In 1910 there were 223 residents; in 1920, just two more than in the previous count.
Bear River - Sturgeon Lake - French
French and Morcom townships, on the western edge of St. Louis County, saw their first pioneers about a decade earlier than Linden Grove. Andrew Mattson, for example, came to Bear River in the 1890s; apparently he was a Swede, and the first Finns apparently did not arrive until the turn of the century.
True to its name, there were many bears here, and encounters with them could be dangerous, particularly if a pioneer happened to be unarmed and had to kill his opponent with a heavy stick picked up in the woods, as farmer Huttunen had to do.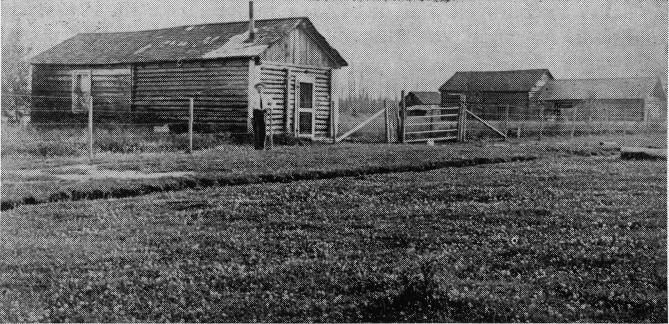 Fred Tepo's home in Zim in 1912.
Organized local government began in 1903, when the local residents petitioned the county authorities to form their township under the name of Sturgeon Lake - the township a bit to the east bearing the same name was not then in existence - but the name was changed to Roosevelt and later still, when discovered that that name was already taken, it was named Morcom, to honor the county commissioner. In 1900 there was just one inhabitant here; in 1910 there were 76 and in 1920 the figure was 125. Of these, 95% were farmers, and many of them were Finns.
In the area organized two years later as French, there were 167 persons in 1910, but only 31 in 1920. Of these, also, many were Finns.
570