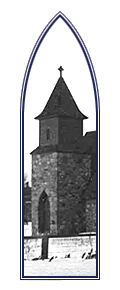 Welcome
The History Museum of East Otter Tail County is located in Perham, Minnesota in the heart of the west central lakes area. Established in 1998, the displays at the History Museum tell the stories of the people, places and events of the area through interpretive exhibits, photographic displays, and original motion picture footage. The Museum, which is open to the public, is housed in a beautiful historic stone structure built in 1887. A genealogy lab welcomes visiting researchers.
Family History Workshops
Join genealogists Mary Pfeffer and Sue Delaney for periodic Informal Computer Genealogy Workshops. This program is designed to help people research their family history using Ancestry.com and Familysearch.org as well as other resources.
Search Local History and Genealogy
Welcome to the History Museum of East Otter Tail County online. On this site you can search both volumes of the East Otter Tail History Books, the Register of Births and Deaths in Perham from 1882 to 1900, and an index to the Enterprise-Bulletin Newspapers which date back to 1883. You can also search our collection of Historical Photographs as well an index to the newspapers of New York Mills and the full text of the book, History of the Finns in Minnesota.
Also Of Interest
Muse-ings.
A column of local historical stories in the East Otter Tail Focus.
ITOW "In Their Own Words" Veterans Museum.
805 West Main in Perham. Close to home but far from ordinary.
The White Elephant Thrift Store.
Also at 805 West Main. Tuesday-Saturday 11-3. Summer 10-5.
Calendar
May 2013

Mayor Tim Meehl has proclaimed May Is Museum Month in Perham! To celebrate we're offering a 20% Discount in the Gift Shop this month.


You Can Help
Become a Volunteer or Board Member!

Work with a great group of folks and make a positive impact on our community. Call 218-346-7676 or email museum@eot.com.

Donations Are Appreciated

We encourage you to consider supporting the mission of our Museum with a yearly membership. To learn more call us at 218-346-7676 or email museum@eot.com. You may also make a donation on line. Click here to donate>>
Seeking Executive Director