picture was considerably altered : three Finns, four second-generation Finns, two Americans made up the board. In neighboring Sax, there was the Sax Consumers Cooperative Association, started in 1936 and two years later a member of the Cooperative Central.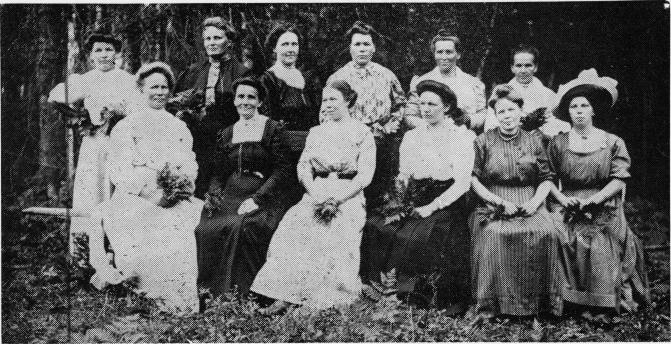 Zim Temperance Society "Laakson Ruusu" sewing circle in 1908. In front:
Rose Närvänen, Maria Johnson, Miss Viitala (Rajala), Helen Pakka, Ida
Holkko, Henna Johnson (Salo). In back: Ida Isackson, Hulda Salin, Maria
Stenlund, Maria Hillman, Kaisa Johnson, Mrs. Herman Viitala.
In 1946, the Finns of Zim started a local chapter of the MFAHS. Its first officers were Wäinö Syrjänen, chairman, Hilma Kanerva, secretary, and August Kanerva, treasurer.
Cherry (Alavus)
Chronologically, Finnish farming developed next in the region to the west of McDavitt, in the townships of Lavell and Cherry, although it had begun somewhat earlier in the southern parts of the townships of Clinton and Fayal, which belong to the range area proper. The most important Finnish clusters developed in Cherry (Alavus), Corbin, Forbes, Mäkinen and St. Louis River, while lesser numbers of Finns were scattered throughout the whole region.
The first Finn in Cherry was Erick Frantsi, who arrived with his family from Eveleth in 1892. Nine years later there arrived John Takala and Andrew Sandi, both with their families, both from Eveleth; Matt and Tom Hautala with families and John Tarvas, alone; John Kinnunen and Tarvas, with families, from Virginia; Alex Mutru, bachelor, from New York; Matt Pohjola with family, from Mt. Iron; Juntunen with family from Eveleth;
574