brilliant speaker, and one of the founders and organizers of the Finnish American labor movement. In the first phases of this particular society's activities, the Iron Dock Hall was rented for program events, while other meetings were held at Hilma Lager's home. In its first calendar year of existence, 23 meetings were held, 17 program evenings were sponsored. When the schism came in 1914, this society, too, declared its support for industrial unionism and was read out of the socialist party. The society, however, continued to flourish, and its dramatics program, in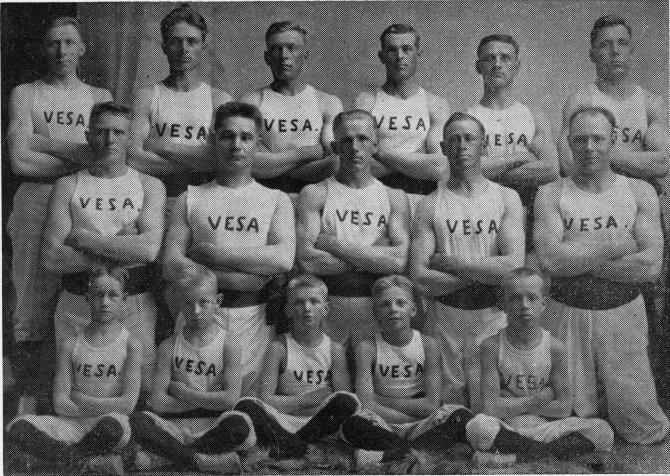 "Vesa" gymnastic society in Two Harbors. In front: Uno Joki, Toivo Niemi,
Walter Jäppinen, Walter O'Jay (Oja), Arne Erickson. Second row: Eino
Laurila, Axel Stenberg, Kalle Jäppinen, Tobias Rinne, John Hagner. Back
row: Simo Simoner, Toivo Laukkanen, Jack Häkkilä, Matti Niemi, Theodor
Webster, Nick Nurmi.
particular, was so successful that the funds it brought in made it possible to build a hall in 1917. Plays were directed by members of the society, by Ida Pasanen, Helga Elmgren, Topias Rinne, Hilma Virta and Ilmi Jäppinen. A gymnastics group, the Vesa, had been set up even earlier, and this was coached by John Kivioja and after him by Theodore Webster. A sewing circle was started in 1924 and remained for decades as the last, faithful financial support of the society. In the 1950s the society was still alive, but its membership was very limited.
599