Finlayson Cooperative Society. (Denham, on the northern edge of the county, has a cooperative, started in 1932, affiliated that same year with the Cooperative Central.) Emil Kukkonen was postmaster in Finlayson for about two decades.
Sandstone
Two smaller Finnish organizations existed in Sandstone. One of them, the temperance society Hyvä Toivo (Good Hope) was started in 1902, with its first chairman being J. E. Karjala. That it had a modest beginning is suggested in the inventory of its possessions that first year, which included items such as 1 tablelectern, 3 oil lamps, 3 tables, 27 cups and saucers, 25 chairs, 23 song books, 1 table cloth, 1 cake knife, 2 serving trays, 1 bucket,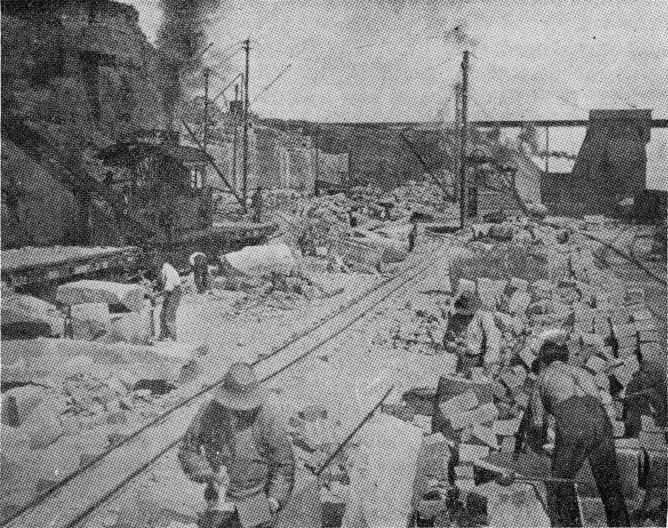 Finnish quarry workers at Sandstone.
35 pieces of assorted studding and siding left over in building materials. Temperance Brotherhood records indicate a temperance society Santakiven Kukka (Sandstone Flower) having joined the Brotherhood in 1904; perhaps such a society also existed, but no other information is available. It is certain, however, that there was an Evangelical Lutheran congregation in Sandstone, and
629