Finlayson
The Oldenburg-Jasberg land agency was given big land holdings to sell in 1894 in the area where the settlement of Finlayson later grew. This occurred a few months after disastrous fires had ravaged through the central parts of Pine County. Up to this time, Finns had lived in the county only in Sandstone, working in the quarries there, but the lands now being offered for sale seemed to them to be suitable for farming, and so many of them became prospective buyers. The enticing advertisements in the Finnish papers added to the demand, and a new settlement, which the Finns called 'Nurmijärvi' (there is a town of that name in
Finland) began and saw rapid growth. In fact, the expression, `it grows like Nurmijärvi' became a way the Finnish Americans for decades used to describe anything which expanded or developed with great speed.
The first organization in Finlayson was the church, established in 1896, affiliated with the Suomi Synod. Eight years later, however,
there was some dissension, and a splinter group started another congregation, affiliated with the National church. In addition to these two Evangelical Lutheran groups, there has also been a strong Apostolic Lutheran group. All three have possessed their own church buildings.
In 1904 a temperance society, the Taiston Alku (Beginning of the Struggle) was started. Later, dramatics activity played an important role in the Farmers Club, 1915-16, while an independent gymnastics society, coached by Emil Kuitunen, was popular at the same time. Musical activity came under varied sponsorship: the local choral groups were affiliated with the churches, while a local brass band was independent, being started in 1913 by Hjalmar Bordlund and active for about three years. Finally, there has been a unique lending library of considerable scope, kept for years at the Kallio farm.
The stores in Finlayson have been almost exclusively Finnish enterprises, and there was also started by the local farmers the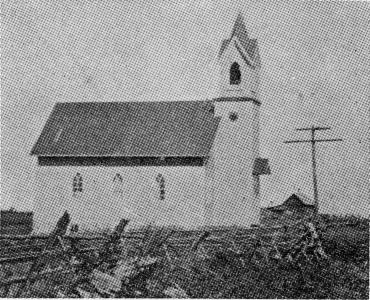 Finlayson's S. S. Church at Nurmijärvi.
628