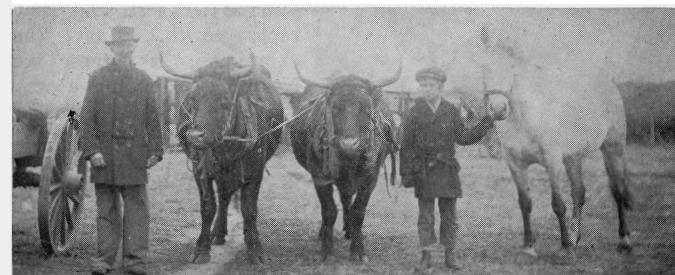 bank. In local administration, posts were frequently in Finnish hands : Oscar Anderson, John Beckman, Jacob Joltanen, Erkki Kangas, Isak Kanniainen, Matti Ranta and Matti Tohmola were all members of Rice River's first administration, with Tohmola serving as chairman of the board of selectmen. John Orjala served in a similar position in more recent, post-World War II years.
The region has seen three cooperatives come to life : the East Lake Farmers Cooperative Trading Company, established in 1916 and joining the Cooperative Central in 1928; the Lawler Farmers Cooperative Association, started in 1919 and joining the Central immediately; the Palisade Cooperative Society, started in 1918 and joining the Central in 1936. All three had exclusively
Gust Saari and son ready for plowing at Tamarack in 1914.
Finnish boards of directors to begin with; all three have changed but are still ruled with Finnish majorities, including members of the second generation of Finns.
- The population of Aitkin County in the year 1900 was approximately 7,000 and since that time has risen to about 14,000. In the year 1900, there were 273 Aitkin residents who were Finnish-born; in 1910 that figure stood at 609. The peak was in 1920 with 885 Finns, and then the decline set in: 699 in 1930; 584 in 1940; 373 in 1950.
Pine County
East of Aitkin lies Pine County which, with few exceptions, has been only a passageway for the Finns. The railroads and highways between Duluth and Minneapolis-St. Paul go through Pine, and for a century newcomers and their families have travelled through here, on their way both south and north. Only two places, Finlayson and Sandstone, saw permanent Finnish settlement.
627