Meeker County and Its Finns
With all of the outstandingly Finnish communities in Wright County being located near the western end of the county, close to the boundary of Meeker County, the result has been a considerable Finnish population here, too.
Kingston : The village of Kingston (area pop. 1,316) became the center for the Finns in Meeker County, and in 1900 there were still 234 of them. A Finnish National Church congregation was founded here in 1898, and the local Finnish Evangelical Lutheran Church followed in 1904. The latter held its services in private homes the first few years of its existence, then at the Kingston Presbyterian Church, rented at 50c per service, then in a former public school rented at $1.00 per year. Finally, in 1922, a member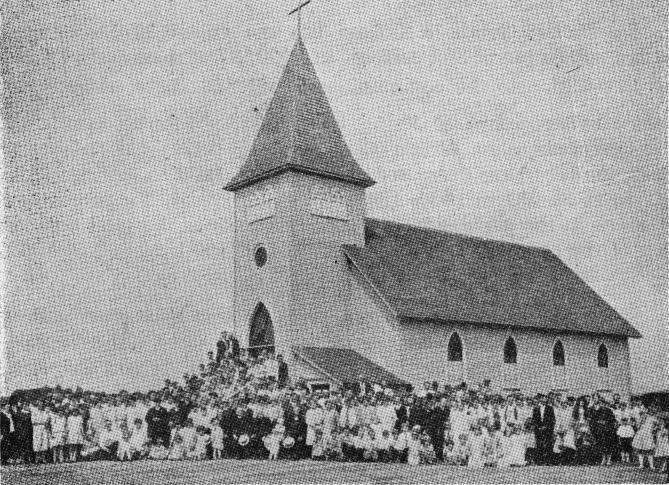 The Evangelical Lutheran Church in Kingston.
of the church, J. Ruotsinoja, gave the congregation a two-acre plot of land as a site for a church, which was built with all the members contributing their labor, as best they could, and with one member working 323 days in all, free of charge. Pastors of the church have been J. Nikander, Keränen, Riippa, H. Sarvela, N. Saastamoinen, T. Samanen, A. Kuusisto, C. Tamminen, C. Jennings, L. Lurvey, and C. R. Heikkinen. The mem
112