bership of the congregation has been between 50 and 110 through the years, with 77 members being listed in 1953.
The Kingston church membership is typical, for the Finnish churches generally have been small. As a consequence, all the members used to know each other well, and the church was like a big family for them. And because the membership was small, the holding of socials and bazaars to raise money enough to meet the expenses was encouraged.
In Kingston, however, Finnish activity was not limited to the church. Finns were also so well represented in the Kingston brass band, for example, that 21 out of its 23 conductors prior to 1917 were Finns. At a much later period, other activities developed with the establishment of a temperance society in 1932.
Among the Kingston Finns, Arvid Ruotsinoja, who came there as a child in 1901, has gained prominence. Having attended the Kingston grammar school and the Dassel high school, he later devoted himself to politics and in 1934 was elected on the independent ticket to the Minnesota Senate. Another Finn, Joel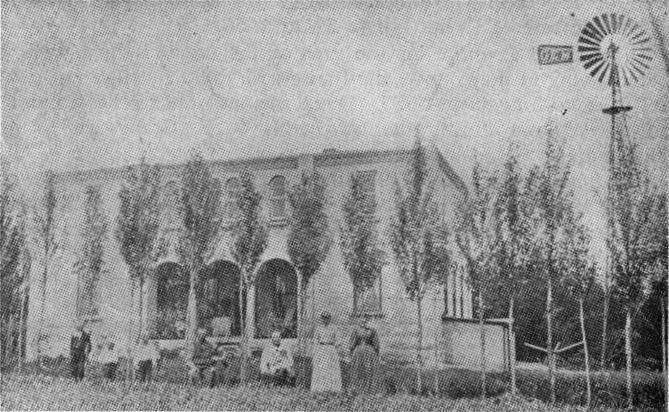 The home of A. Haapala in Dassel in 1903. Seated is A. Haapala and his
second wife Josefiina, nee Bungt. Standing are seven of the family's 19
children.
Hokkanen, has held responsible posts in Kingston, being a member of the Board of Education and treasurer of the Farmers' Shipping Association, and still another, J. H. Mattson, has been president of the Farmers and Merchants State Bank. Others, Johan Henry Marks, William Salmela and Antti Höyhtyä, have owned stores
113