The history of Heinola must be begun by speaking of its businessmen. About five miles south of New York Mills, at the point where four townships met - Newton, Deer Creek, Otto and Leaf Lake - the farmers of the region established a joint dairy in 1908. Across from the dairy two Finns, Herman Arola and Jacob Turnberg, set up a general store in Matti Heinonen's home. Taking its name from the store, the whole village got the name Heinola.
Almost at the same time, J. Mursu opened another store in Heinola, and a third followed, that of Erik Feldt and Henry Kauppi,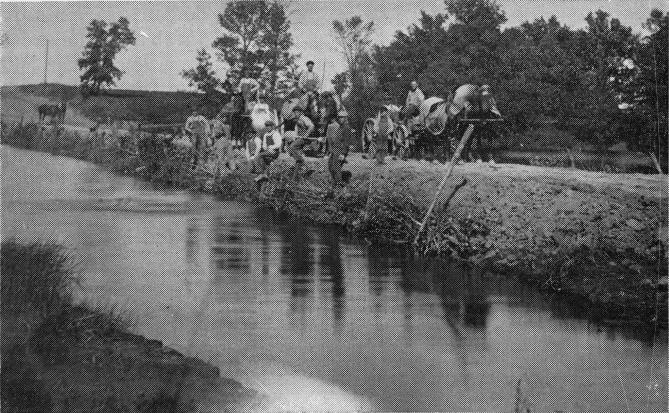 Road being built in the year 1910 across a small lake on the Aatu Kela farm just north of Heinola.
which later became the Jetenberg cafeteria. Still later, this cafeteria was owned by John J. Hagel, from whom the local Workers' Society bought the property for use as their hall, urged on by Matti Johnson, Charles Lahnala, Matti Pelkola, Wille Puronen and Emil Virnala.
In addition to a dairy, the farmers of the area also established a joint store, whose first business manager was John Mursu Jr., and who was followed in turn by Jacob Jacobson, Aale Höyhtyä,
165