and Andrew Hervi. Other business enterprises in Heinola were tried by John P. Aarni, John J. Hagel, the Lahti brothers, and Walter Rimpilä. The dairy, incorporated as the Clover Leaf Co-op Creamery Association, had on its first board Henry Anderson, chairman; Peter Raattama, vicechairman; Adolf Anderson, secretary; Jacob Hietala, treasurer; and Oscar Hill,
Charles J. Palo and John Sumi as members. Its first dairy manager was Carl Enberg. Following its absorption into the New York Mills dairy association, the Heinola buildings were torn down.
That the New York Mills dairy helped increase the farmers' prosperity has already been mentioned. The Heinola dairy, in turn, served to shorten the trip to market for many farmers, and the stores close by made it easy for them to do their shopping at the same time. With
a ready market for milk, it was profitable to increase the size of herds. This led to expansion of pasture lands, and to increase the quantity of milk, clover and corn were planted. Then, to maintain the fertility of the soil, rotation of crops was introduced,
with clover and hay in some fields, corn and potatoes in others.
Harvesting was no longer a simple question of reaping and threshing but began to involve the building of silos. Barns grew larger, farmhouses bigger. In this fashion the dairy affected the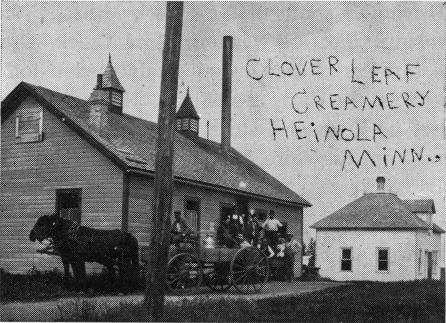 The Clover Leaf Creamery in Heinola.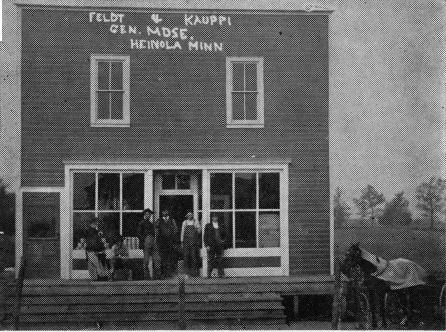 Erick Fe!dt's and Henry Kauppi's store at Heinola
in the year 1910.
166