Finns to be buried there were the two children of Matti and Kristiina Kolleri: Johannes and Theodore, who died in 1882 and 1883 respectively. Subsequently more than a hundred other Finns have been buried there.
At one time Lehtijärvi had its own temperance society, the Taimi, founded in 1900. One J. W. Lähde wrote the society's first by-laws, including the statement : "Frequenting saloons, playing cards and gambling, going to saloons to dance, are forbidden the members of this society, and whosoever breaks these rules has broken his pledge to this society. Similarly, if any member by any immoral or demeaning conduct damages his own and the society's reputation, he shall be expelled from the society for having broken his pledge."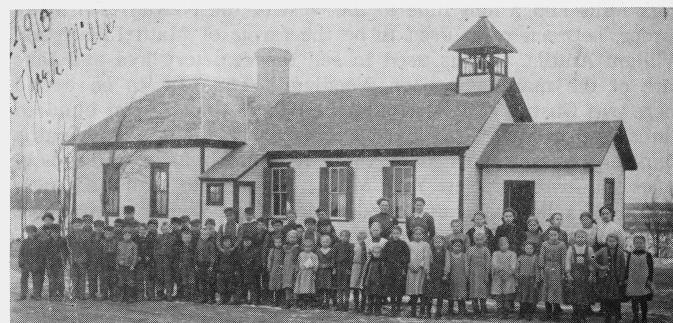 Leaf River school in 1910.
The first president of the society was William Fraki, while William Matti was elected vice-president and Anna Björnström (Maikke) was secretary. The temperance society even built its own clubhouse, with a lending library and a hall where many plays were performed. Even after the temperance society ceased to exist, its building was used for various meetings.
In 1890, the total population of Leaf Lake was 640, in 1900 it was 713, and in 1910 it was 694.
Otto Township
This township lies due north of Leaf Lake and west of Newton. The area was originally a part of Rush Lake Township but was separated from it in 1883. Finns had begun to arrive in
169