reflection, in part, of the contrast between the early days - when the forest was cleared and wolf packs were not yet unknown, when school and church and postoffice (Lönrot, opened in 1898, with William Isola as the first postmaster) were the town's buildings - and the later age when a new generation could build a dance hall for its pleasure, a dance hall to which one old woman, unable to forget the stern old days, set fire which completely gutted the building. However, the younger generation could still remember the founding generation and commemorate it with a monument, a millstone once hewn by hand by one of those pioneers, John Wirkkunen, unveiled on 28 June 1953 in front of the Wolf Lake Finnish church, and bearing on its broad granite base the inscription
"In memory of the Finnish pioneers who arrived in eastern Becker County in 1882 and the years following, whose bravery, perseverance and faith opened the Wolf Lake region to settlement. Erected, to do them honor, by
their descendants."
Snellman - Osage - Runeberg - Detroit Lakes
Somewhat to the north of Wolf Lake lies the railroad station of Snellman where, according to S. Ilmonen, Finnish settlement began in 1888. In church affiliation it belonged at first to the Wolf Lake parish, but in 1912 there was established a congregation belonging to the National Church, and which already had its own church and cemetery by the following year. Mssrs. Huuskonen, Anttonen, Haakana, Heino, Heikkinen and Miettinen have served as pastors. The church had 58 members in 1935 and 42 in 1951. One Rauha Korpi served as postmistress of Snellman for several years.
Along the railroad, a bit to the east of Snellman, is a railroad stop named Osage. Originally the mail for Snellman was picked up there, and a few Finns have always lived in the vicinity.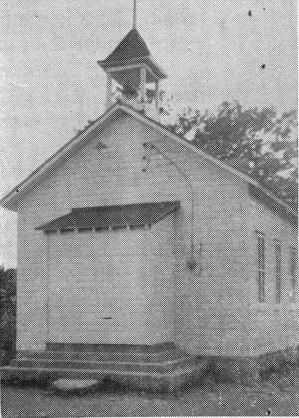 Wolf Lake Apostolic Church built in
Lutheran 1898.
196