incorporated in 1906, Fairbanks was formed from Ault territory in 1918, Bassett began its existence in 1913, and Argo in 1920. A fairly significant Finnish settlement developed in Brimson, under which name the whole area is known, and which also includes Toimi, situated in Lake County.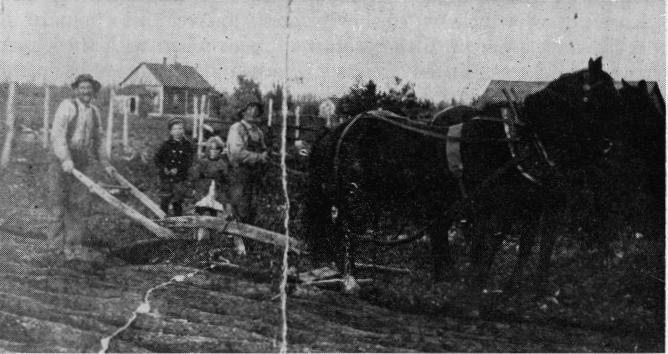 Alfred Erickson, new settler at Palmer, plowing with his home made plow
in 1910.
In 1890, there were no inhabitants in this, the Cloquet River valley. Arthur Wolfe then arrived, as the first stationmaster, and the Kuchtas, husband and wife, were the first to begin clearing land here for a farm; their child was the first white child born here. Erika Hassel and Charles Olson were the first couple to be married here. In the early years, when there was no post office
between Two Harbors and Messaba, the mail used to be thrown off the moving train; in 1899, however, the Brimson post office was opened. The name, by the way, was that of the president of the Duluth Iron Range Railroad, and a little later the railroad stop of Cloquet River was also renamed Brimson.
Two of the early arrivals, Matti Kuusisto and Christian Rondo, related in the 1930s how they happened to come to this stony, swampy region. It had started with an advertisement in the Uusi Kotimaa, placed by a Finn living in Eveleth, who offered lands for sale in Brimson. Kuusisto and Rondo, who were neigh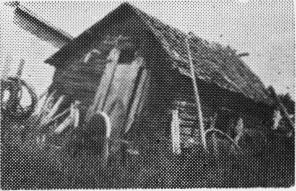 Brimson's first home. This was built in 1903 by Kristian Rontto.
351